|
Running time : 20:13 min
Actors : Christian Wilde, Aaron Skyline, Marcus Mojo, Dylan McLovin , Justin Ryder
Description
Two's company, three's a crowd, four's a party, and five's a... gangbang?? It's tough to keep track of who's who when Marcus Mojo and his friends, Justin Ryder, Christian Wilde, Dylan McLovin , and Aaron Skyline join souls to suck and fuck like it's goin' out of style.

These boys come out horny and don't stop until the very end. And right about the time you start wondering who's gonna clean up all the cum, the hairy Justin Ryder gladly assumes the role of pivot man in the hottest fuck fest you've seen yet.

Enjoy!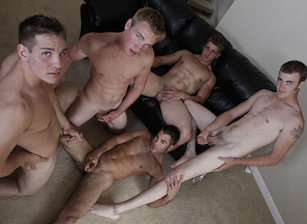 Recommended Movies
No records were found that match the search criteria.