|
Running time : 19:06 min
Actors : Tommy D, Marcus Mojo
Description
Marcus Mojo is hanging out with his friend TommyD over at Tommy's place. Marcus has been waiting all morning to take in his usual helping of cartoons, but Tommy wants to watch Oprah. Well Marcus can't get his mojo right unless he watches Bugs, Daffy, and the gang! Turns out he's willing to do just about anything to get his way. And Tommy's taking full advantage.

When Marcus agrees to suck Tommy's dick in order to get his choice of programming, it's a juicy, boner-inducing afternoon delight! Watch these guys trade off on each other's thick cocks before Tommy gives Marcus a good fuck. Hey, this is way better than cartoons!

Enjoy!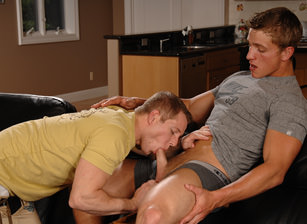 Recommended Movies
No records were found that match the search criteria.