|
Running time : 35:55 min
Actors : Marcus Mojo, Tyler Torro
Description
Tyler Torro is back on Marcus Mojo's massage table for like, the umpteenth time this year, nursing yet another injury. It's not that he's delicate, but rather, he just doesn't know his own limitations sometimes and over exerts himself to the point of injury... basically, the guy just goes too hard.

And that's what has brought him back. Well, that and the fact that he has still yet to fuck Marcus' sweet ass. Now as far as Marcus is concerned, Tyler is a piece of dick he's been trying get for quite some time. And as much as he hates to see a friend injured, he would be lying if he said he didn't relish this opportunity to try and seduce Tyler. Sure enough, these motives converge on Marcus' table, and once he has Tyler's muscles loosened up and relaxed, he goes ahead and just takes one giant lick of Tyler's ass. Clinching at first, then immediately giving to, Tyler realizes he's gonna have to go hard here too.

Enjoy!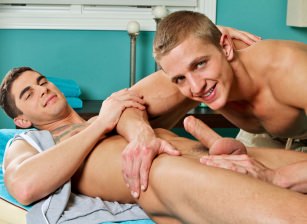 Recommended Movies
No records were found that match the search criteria.