|
Running time : 20:50 min
Actors : Marcus Mojo, Jeremy Bilding
Description
Marcus Mojo is not very good at card games. In fact, he's never won at strip poker in his life. But he's quite an ambitious better. That's why his friend Jeremy Bilding loves playing with him. He always get Marcus naked, and sometimes he gets a little more.

This time Jeremy actually caught the daddy of all poker hands, a royal flush. Marcus thinks he's bluffing and doesn't wanna let him get away with it. Jeremy knows how to push his limits, so he bets Marcus a blowjob on this one since he knows he can't lose. Considering Marcus enjoys sucking Jeremy's large cock, it's sort of a win, win situation. And in the name of good sportsmanship, Jeremy swallows Marcus's dick to show he's a gracious winner. And since these two are such good pals, Marcus is gonna let him pound his tight asshole. It's not about whether you win or lose, it's about how hard you fuck your opponent.

Enjoy!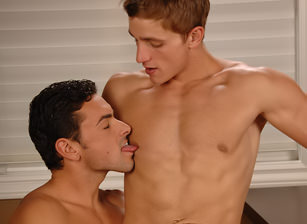 Recommended Movies
No records were found that match the search criteria.