|
Running time : 17:34 min
Actors : Marcus Mojo, Jimmy Clay
Description
Looks like Marcus Mojo might be in some trouble with his friend Jimmy Clay. Marcus thought what Jimmy doesn't know won't hurt him but things did not come out that way.

Its been a long week and Marcus has just got out of a nice warm shower but than he hears his roommate Jimmy come stomping down the hallway. Jimmy has been gone all weekend but Marcus decided to take his car out for spin while he was gone. Well one thing led to another and Marcus got into a fender bender and decided not to tell his roommate.

Jimmy confronts him right out of the shower and he's only wearing a towel to cover that gorgeous body. Pissed as hell Jimmy shoves him on to the bed yelling and screaming. He is so pissed off that he slurps down Marcus's cock and than pounds that tight furry hole.

The anger cums out in more ways than one in this hot high tempered scene.

Enjoy!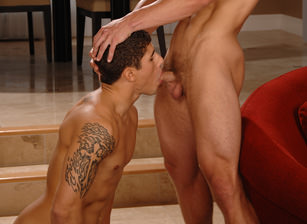 Recommended Movies
No records were found that match the search criteria.